The Asylum
The Asylum is a villainous cast based on the machinations of the insidious Oscar Sullivan and the denizens of the Oscar Sullivan Institute of the Criminally Insane. A bit of fluff and background, followed by the cast and finally some pictures of them. There's even a nod to Nick Hughes' Fox Force 5 who have been a thorn in the side for Oscar Sullivan for some time...
Background and History
Widebog prison was built in 1870 to deal with criminals from the conurbations of Manchester, Birmingham and London. A typical Victorian Brick Prison. As it's name suggests it was built in the middle of a desolate moor, where it was suggested the inmates wouldn't upset the locals (as no one wanted to live in such a miserable forsaken place) and it would be easy to find escapees. The prison quickly got a reputation for it's brutal conditions and soon many of the most violent criminals (ie those that weren't hung) were sent here. Most of these were also decidedly mentally unhinged. Most Doctors refused to work in such conditions but it was clear that someone had to take up the slack. After a hefty donation to the London School of medicine and promises of the building of 'suitable' cells for the most insane, Student Doctors and also the new Psychologists were sent on secondment.
As the prisons reputation changed from one of a lack of prisoner welfare to that of a high security lunatic asylum many of the cell blocks were transformed to rooms akin to hospital wards and one wing was given over to the looking after of Private patients who were deemed to be 'unwell'. This wing proved to be a very lucrative asset for the Prison. However if they were to attract very wealthy clients the name had to be changed, and in 1904 Widebog Prison quickly became The Widebog Institution. this change of name and increased revenue had little effect on the Institutions day to day business.
As the South Wing had been given over to the care of paying clients the other three wings became more crowded and the way the inmates were treated became worse. The more violent prisoners were moved to the North Wing where their bellows and screams wouldn't offend the patients in the South wing. In this North Wing experimental procedures for treating patients were trialed. Electroshock Therapy, New types of Drug and other wilder cures were all trailed. The deepest cells in the North Wing were renamed 'a' ward and this is where most of the experimental treatments were trialed on the most violent of criminals. Soon all of the cells in North Block had been converted into wards. Every ward was lettered from A through to K. K being the least disordered criminals to A being the most. The other two wings were kept as normal Prison Cells and these generally held prisoners with no psychological problems.
As the Great War progressed in France the Institute stopped being a prison and became more of a hospital. The East and West wings were emptied of Prisoners and were given over to the War Office so that those suffering from Shell Shock could recuperate, although conditions were grim. No monies were spent to convert the cells into proper rooms. South Wing continued to be lucrative as families of officers sent there paid for the better conditions that it offered. North Wing remained a place for the Criminally Insane. It suited the Government to keep them there and it suited Doctors to practice procedures there before rolling them out to use on the General public. In this time some real breakthroughs were made, although few when compared to suffering inmates went through. A ward had long stopped being a place where prisoners shouted obscenities and threatened violence to the gaolers. Most of the time now the men here were strapped to beds, only to be wheeled out to the operating rooms. Many prisoners in other wards were often told that if they didn't behave/take their medication/speak out of turn they would be sent to A ward. No one wanted that.
By the late Thirties the Government decided to sell off the Institution, although three quarters of the Institute were lucrative the North Wing was becoming an embarrassment to the Government. Few of the inmates of A, B and C ward ever left, some from the other wards did and they told of their treatment and conditions. Student Doctors had long since stopped going because of the unethical treatments and most of the Doctors who were there were only there because no where else would employ them. So in 1937 the institute was sold, lock, stock and barrel to Sir John Poncemby-Smythe, the only proviso being that A ward to K ward were still available to the prison service.
The Poncenmby-Smythes had made their fortune importing/exporting during the British Empires's expansion and had no interest in Widebog. However Sir John had convalesced in the South Wing after being a horse officer in the great war. He never spoke about what had happened to him in France but this was the place that looked after him, now he was going to look after it. Two things stopped this from happening:
Firstly Sir John knew nothing about North Wings activities and after being shown round one day he left ashen faced. He never returned. Although nominally owned by Sir John he was horrified at the practicies that happened in the Institute that now bore his name, in 1938 it had been renamed again as 'The Sir Poncenmby-Smythe Institute for Recuperation'.
Secondly, World War Two started. The Government seconded the Institute and it became a POW camp. Captured Germans were now housed in every wing except the North. The North Wing still housed the most extreme prisoners of the day, and if some of the POWs were admitted, then it was because they too required 'specialist care'
After the War the Institute returned to it's prior purpose although it now struggled to find many paying patients and both the West and East Wing were left empty, although still maintained so they wouldn't become derelict.
The modern history started here in 1947 when Oscar Suillivan bought it from the Ponsenmby-Smythes. No one knows exactly where Oscar Sullivan's fortune came from but clearly it was huge. He'd invested heavily in new factories producing all kinds of things from Paper-clips to Warships as well as many other industries, healthcare being one of them.
With the founding of the NHS a year later it was clear the institution's days as a hospital were numbered, and the Institute became The Oscar Sullivan Institute for the Criminally Insane. The security for the site was beefed up and Sullivan advertised to all the countries of the world that here they could look after all of most dangerous, most insane patients. Although the public were outraged, a hefty donation to the government of the time meant it would happen. Soon criminals from all over the world were admitted (as well as domestic prisoners, North Wing still was one of Her Majesties Prisons after all) and specialists in the treatment of said criminals were hired.
One Doctor didn't apply in the normal way for a job. Doctor Spiffy had been working in one of Sullivan's pharmaceutical factories and was brought in by Sullivan himself. He became the head Doctor on A Ward (which now encompassed the whole of the North Wing), which still used experimental treatments as well as outdated and unsafe treatments. Having disposed of the other medical staff on the ward, he quickly replaced them with his own choices of Doctors and Nurses.
This would be the time of change, over the next 5 years Spiffy used his considerable knowledge in drugs to experiment on the inmates and many thousands of formulas were made; Each having a different effect. Spiffy reported each and every one to Sullivan.
Now, in 1972, things don't seem exactly as they appear at The Oscar Sullivan Institute for the Criminally Insane. The place has a world wide reputation for the care of patients and even a good track record of cured inmates being rehabilitated. But there are rumours of sinister happenings and reports of known patients engaged in criminal activities many hundreds and even thousands of miles away, only to be seen in their wards hours after such reports. Something isn't right but what? And who will find out? Already the Fox Force Five investigators have been turned away when they got to close to the field-testing of Formula 4514. A waterborne formula that turns the drinkers into mindless zombies who can be controlled to a certain extent with pheromones
Oscar Sullivan (Insidious Industrialist)
The mastermind behind the whole operation. Although the authorities believe his Institution is well run and keeps the criminals inside safe they have been misled. Behind the doors he has the staff and patients all involved in a number of illegal activities..
MDHSAIM
6533455
Leader (2) Luck (2) Obey Me, Medic, Gadgets
Brawl 4+
Pistol 3+
72 Ratings
Dr 'Smith' (Failed Experiment)
Little is known about Doctor 'Smith' before the experiment went wrong. What is known is that the experiment left his body hideously altered and his mind in tatters. Although Sullivan was ultimately responsible for his condition, for some reason 'Smith' is incredibly loyal, never more than shouting distance away
MDHSAIM
6426442
Fearsome, Luck (1), Alien (closest I could get to mutant), Dodge, Invulnerable (1), Love to Hate, Signature Weapon (Claw)
Brawl 3+
27.5 ratings (Right Hand Man)
Dr. Spiffy (Mad Scientist)
The head doctor on 'C' ward. He is responsible for the use of many self-made 'conditioning' drugs used to control the staff and patients in the Institute. He also signed off Doctor 'Smith's experiment that went wrong. In addition to his medical and chemical genius he also dabbles in the making of weapons. A truly crazed genius
MDHSAIM
6323454
Boffin (2), Repair, Medic, Regeneration
Brawl 6+
Stun Stick 5+
49 Points
Nurse Ratchet (Nasty Piece of Work)
The tyrannical head nurse of the mental institution, who exercises near-total control over those in her care, including her subordinates. She will not hesitate to restrict her patients' access to medication, amenities, and basic human necessities if it suits her whims. Not someone you would want to cross as she is one of the few who has an encylopedic knowledge of Dr Spiffy's formulas and more importantly the key to the storage vault. She's alson known for her titanium clipboard which she will belt those who annoy her with unnerving accuracy.
MDHSAIM
6423343
Luck(1), Roar, Sixth Sense, Leader (1), Signature Weapon (Clipboard)
Brawl 3+
Clipboard (Hand weapon) 3+ (Signature Weapon)
Improvised Weapon 3+
42 Points
Sorensen, Martini and Scanlon (Cultists)
These three are both patients from E ward (where they keep the violent socio paths) Both have been given heavy doses of Spiffy's formula 7.
MDHSAIM
6313335
Fanatic, Invulnerable (1)
Brawl 4+
Hand Weapon 4+
24 Ratings
Rawler (Also Starring Cultist)
This young woman is one of the most dangerous E ward patients. As well as a heavy dose of formula 7 she has been given a boost with some formula 301.
MDHSAIM
6423335
Fanatic, Invulnerable (1)
Brawl 4+
Hand Weapon 4+
23 Ratings
Nurse Pillbow (Scientist)
This young lady used to be a pillar of innocence, until she drank from the staff water cooler. Spiffy had laced this with Formula 93243. The permanent effect of this was to remove all morals from the person drinking it. Now she happily takes part in any activity that appeals to her
MDHSAIM
6313242
Boffin (2)
Brawl 6+
8 Ratings
Mr Turkle Technician)
An aide on E Ward. He knows exactly what voltage should be used for the electroshock therapy machines. He also keeps an awful lot of brains in jars
MDHSAIM
6313342
Boffin (1)
Brawl 6+
4 Ratings
Oscar Sullivan (Crooked Dice):
Dr Smith (Crooked Dice):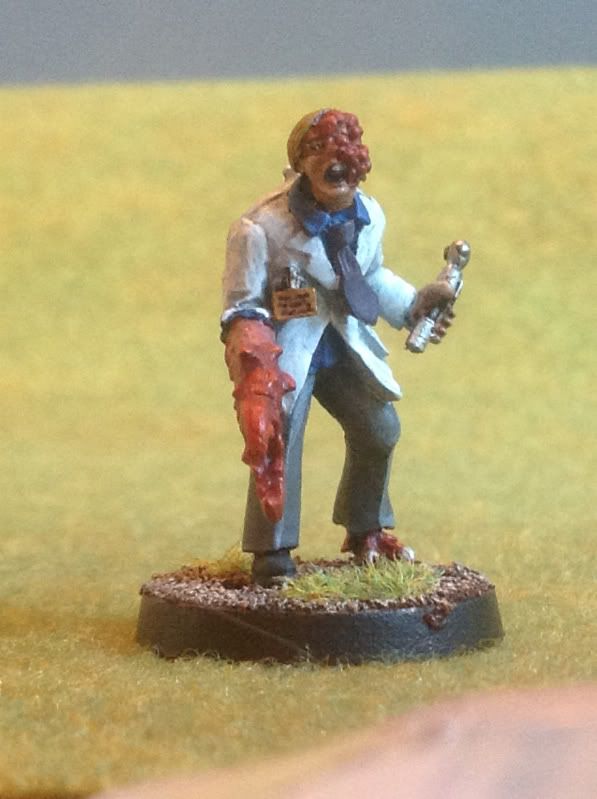 Dr Spiffy (Crooked Dice):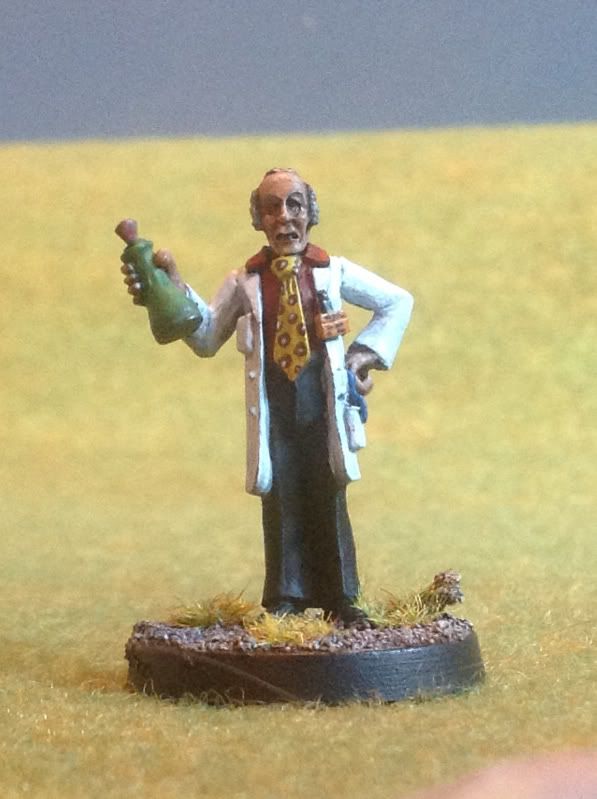 Nurse Ratchet (Crooked Dice ):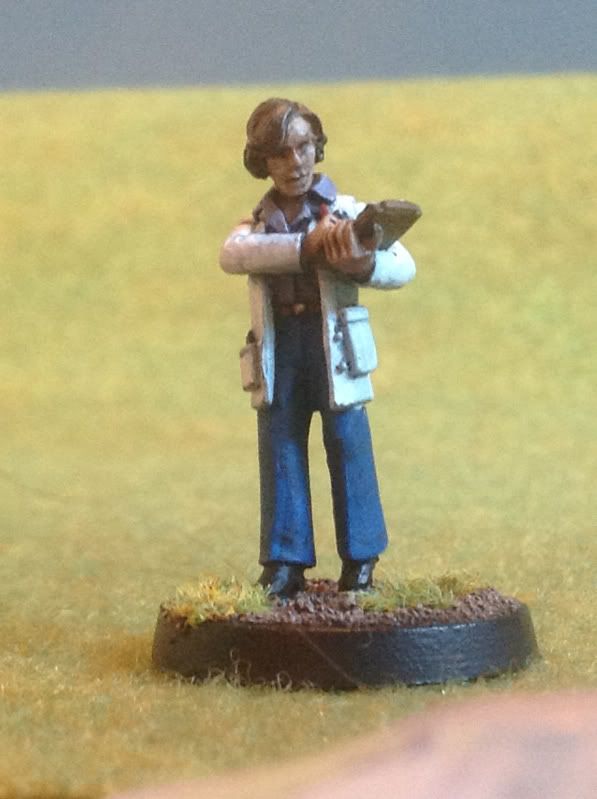 Sorensen, Martini and Scanlon (Westwind)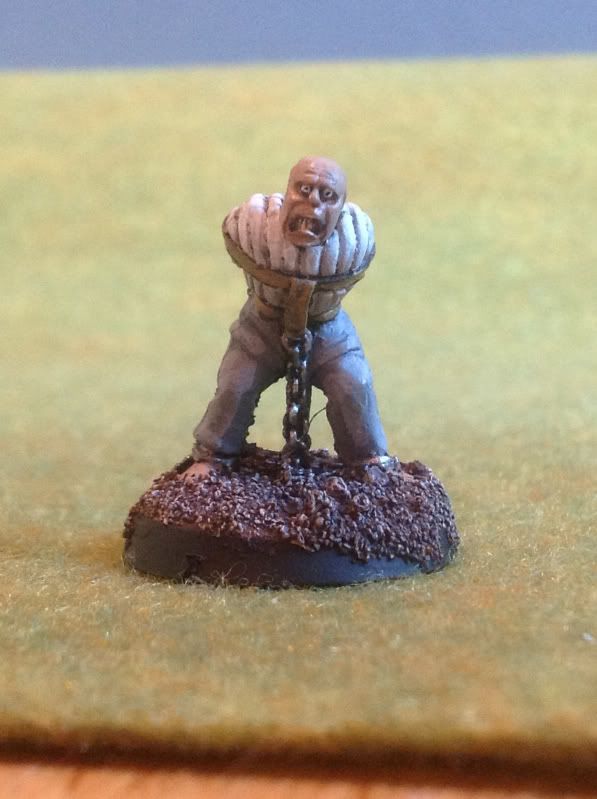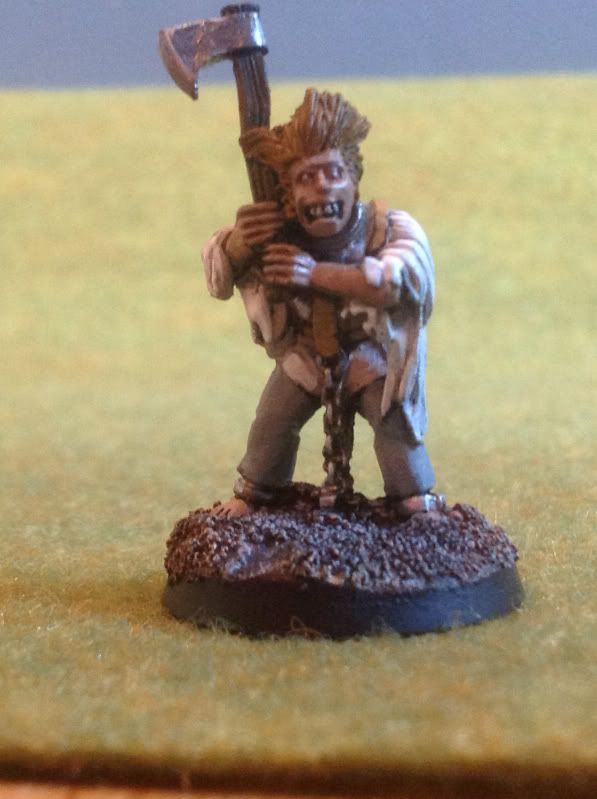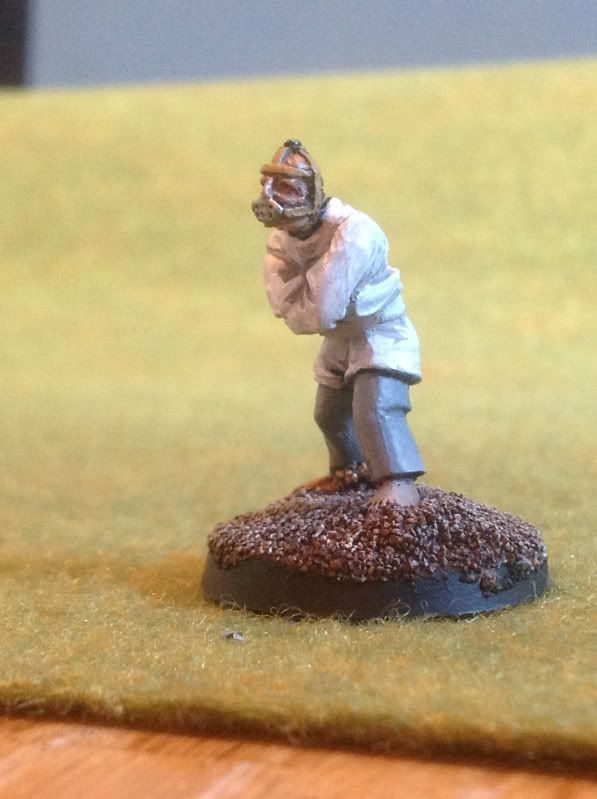 Rawler (Westwind):
Nurse Pillbrow (Black Cat Bases):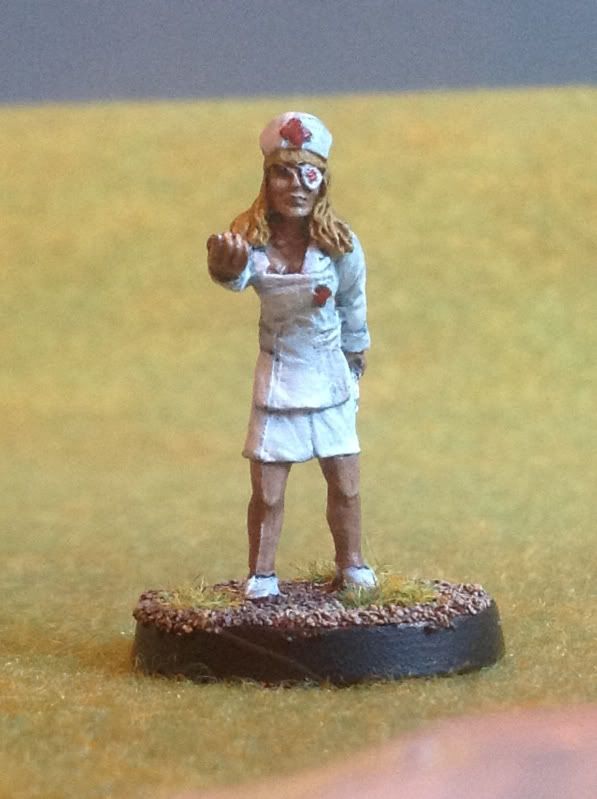 Mr Turkle (RAFM)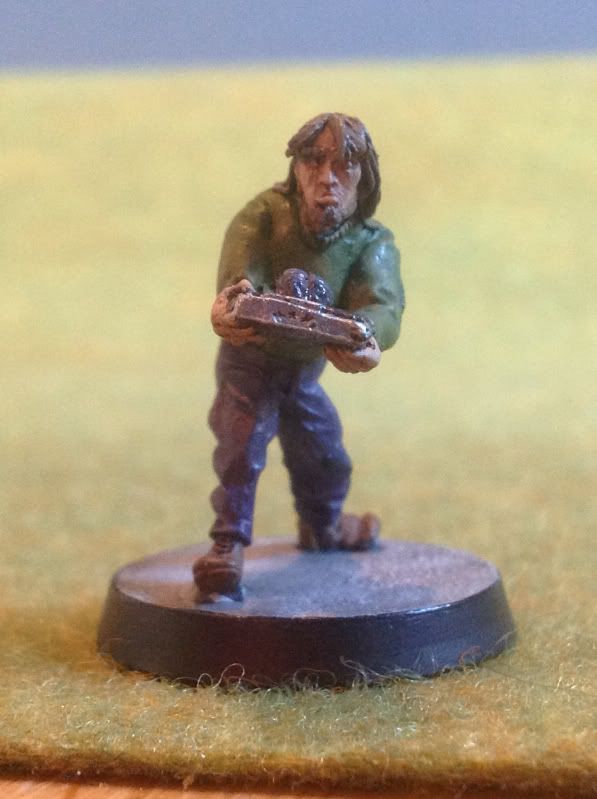 and a group shot...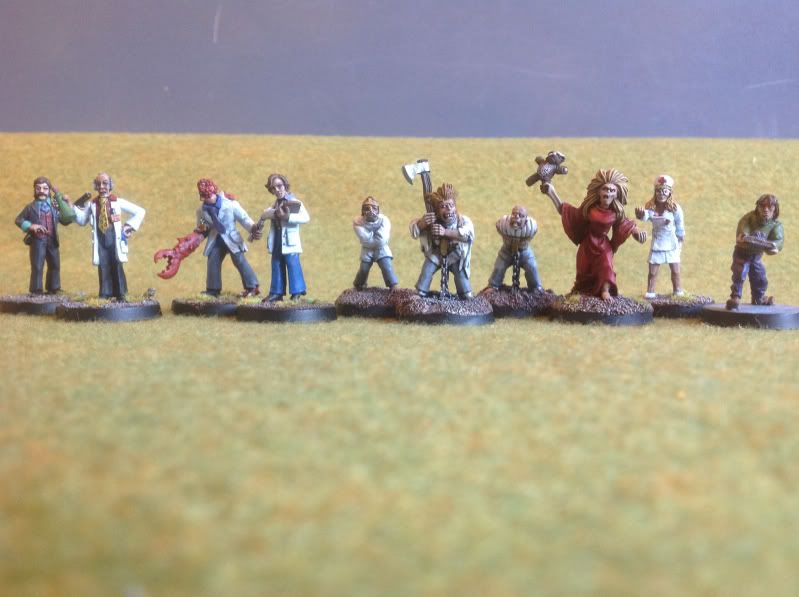 Production Notes: A total of 249.5 ratings and a nice round number of 10 models. Not much in the way of ranged weaponry but up close and personal they can put themselves about if need be. The cast was designed to be fluffy rather than effective. Even so, 2 years of development has brought them to this point